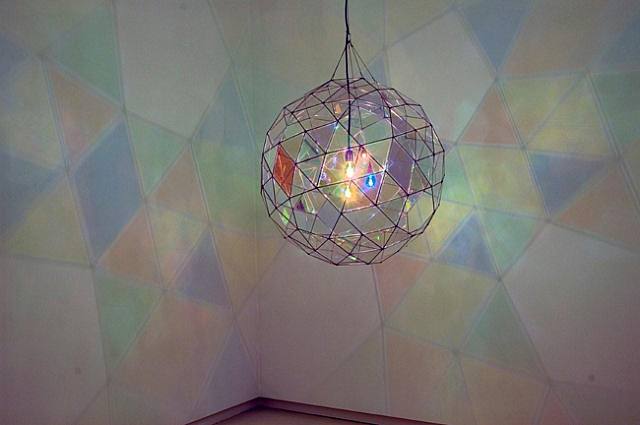 Before the star lamp, Olafur Eliasson 2010. All Images Via Galeria Elvira Gonzalez Homepage
"Kepler was Wrong", the exhibition of the new works by the renowned Danish artist Olafur Eliasson is on view at Galeria Elvira Gonzalez, Madrid from January 19 through March 6, 2010. "Kepler was Wrong" features works created especially for this particular exhibition, the first solo show for Eliasson in this gallery.  The artist takes on a humorous argument with Johannes Kepler, a German mathematician, astronomer and astrologer, and key figure in the 17th century scientific revolution, best known for his eponymous laws of planetary motion, whose theories provided the foundation for Isaac Newton's theory of gravitation.  Eight works on display at Galeria Elvira Gonzales treat different aspects and elements related to the universe, outer space and extraterrestrial traveling, such as the dark side of the moon, gravitation, meteorites etc.  For this particular exhibition, Eliasson creates his own variant the universe that includes seven installations and a large panel of black – and –white photography Jokla Series(2004).
More text, images and related text after the jump….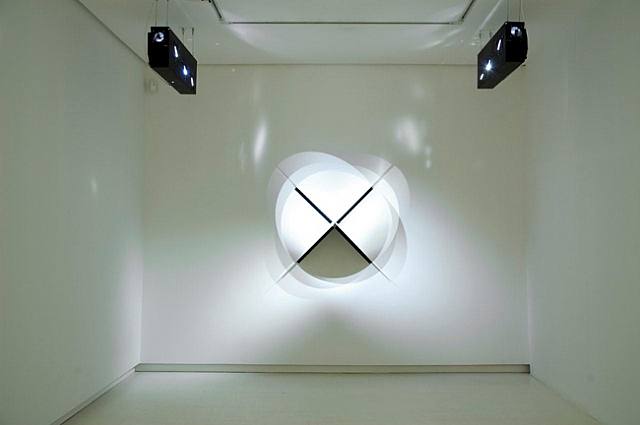 How long does it take (an astronaut) to get out of a black hole, Olafur Eliasson 2010


Installation View
Jokingly debunking Kepler's first law of undisturbed planetary motion, according to which the orbit of each planet is an ellipse and the Sun is at one focus, the artist appoints his viewer, whom he calls "The Fourth Dimension", the center of this mini-universe.
Olafur Elisson, a recipient of prestigious Miro Prize of 2007, is no stranger to depiction of universally relevant issues of massive scale: in 1995 he established Studio Olafur Eliasson in Berlin, a laboratory for spatial research. From 1998 to 2000, Eliasson realized a so- called "Green River" project aimed at turning people's attention to environmental issues: the artist chose four rivers in different cities — Bremen, Germany; Moss, Norway; Los Angeles; and Stockholm — and, by pouring nontoxic dye into them, temporarily turned them green.
His flirtations with extra-terrestrial theme began in with his 2002 "Lava Floor" project in at the Musee d'art moderne de la ville in Paris.  The attendees of the exhibition had to walk over a large patch of lava-covered floor to reach the exhibition hall. Perhaps his most renowned project of 2003 "The Weather Project" was on display at Turbine Hall at Tate Modern as a part of Unilever Series. The artist used monofrequency lights, which make colors other than yellow and black invisible, to create a giant semi-circular sun, which was rounded out by a giant ceiling mirror, in which viewers could gaze at their reflections.  Haze machines created mist that permeated the space and added to the impression that natural phenomena were at work.
Relevant Links: Artist's Homepage
Galeria Elvira Gonzalez Homepage
Thinking Glacially, Acting Artfully [NY Times]