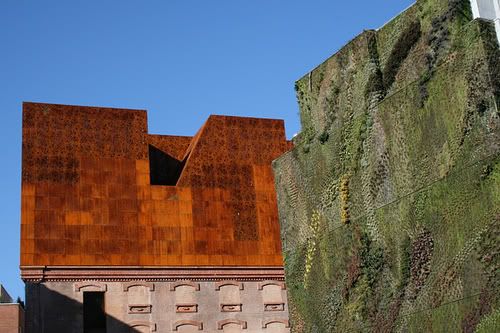 The CaxiaForum [BigFishJavi]
A striking addition to its already thriving art scene, a new contemporary art museum designed by superstar Swiss architects Herzog & de Meuron has opened in Madrid. The CaxiaForum is located in the heart of the cultural district, very near the Prado, Reina Sofia and Thyssen-Bornemisza musuems.
Madrid museum opens as an 'urban magnet' [artnewspaper]
CaxiaForum Madrid [Official website]
Built from a converted and expanded 1899 power station, the seven-story brick and cast iron complex will hold art exhibitions, cinema screenings, concerts, debates and conferences, and also features an attractive 80-foot vertical garden.
The original building's double-peaked modernist warehouse was topped with a superstructure of corroded cast iron. The 19th-century brick walls have been retained, but raised on piers so that visitors can walk underneath the building. The vertical garden – the first of its kind in Spain- was designed by botanist Patrick Blanc and features 2,000 plants from over 250 different species.
The $94 million project was funded by the Caixa Foundation, and the first show opened with a exhibition from the foundation's collection of more than 700 works, mainly dating from the 1980s to today.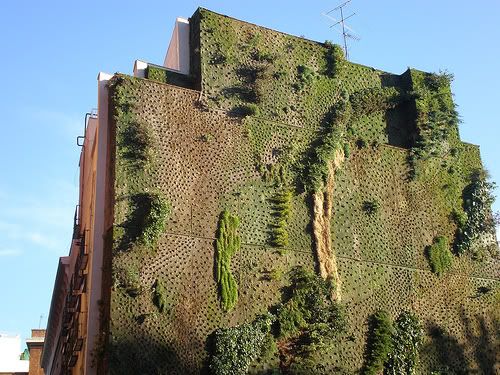 Vertical Garden [BigFishJavi]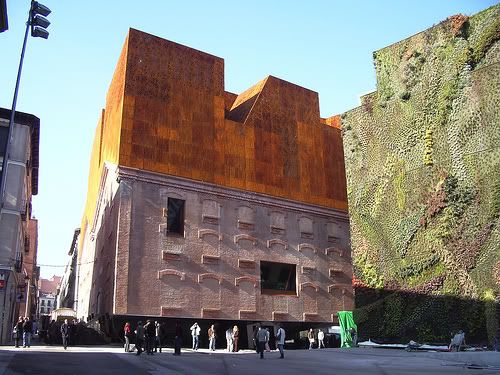 Crowd admires the new building [BigFishJavi]