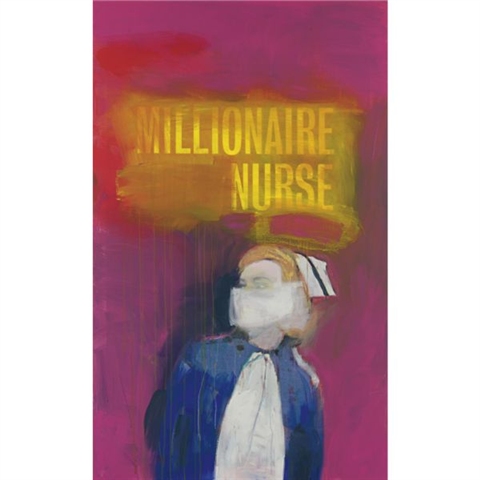 Millionaire Nurse, Richard Prince via Artnet
The record-setting Francis Bacon triptych wasn't the only artwork purchased for large sums at Sotheby's the other night. The evening sale, which amassed a total of $386 Million and came on the heels of a successful night at Christie's was filled with powerhouse artwork and collectors –indicating that maybe not all Americans bearish on art.
Market Exuberance Surprises [International Herald Tribune]
Sotheby's Stock Rises After Strong Contemporary Sales [Forbes]
Francis Bacon Triptych Tops Sales [Art Observed]
Sotheby's begs the question – what recession? [New York Times]
$86 Million Corpse at Sotheby's [Bloomberg]
The Scene at Sotheby's [Wall Street Journal]
Bringing Home the Bacon [Artforum]

Abstract Picture, Gerhard Richter via International Herald Tribune

My Lonesome Cowboy by Takashi Murakami via New York
In other notable artists sales, Gerhard Richter's 1990 Abstract Painting sold for $15 Million – more than double it's estimate of $7 Million. Takashi Murakami, who seems to be everywhere these days (even the sale) had an early sculpture of his sell for $15.1 Million, which is triple the amount that his work had previously sold for at auction. The sculpture is part of en edition that is currently on view at the Brooklyn Museum.

Overdrive (1963), Robert Rauschenberg via Sotheby's