Tacita Dean's Christmas tree, 'Weihnachtsbaum' at Tate Britain via Zimbio
The Tate has been embracing the Christmas spirit this week with a series of headlining seasonal happenings.  The Tate Christmas Tree 2009, "Weihnachtsbaum" designed by Tacita Dean, shocked critics by actually appearing "Christmassy"[Bloomberg]  This weekend, Tate Modern's vast Turbine Hall was taken over by Rob Pruitt's festive 'Flea Market' – originally held at Gavin Brown's Passerby gallery in New York in the late 1990s, this event was programmed to coincide with the Tate Modern exhibition Pop Life: Art in a Material World, in which Pruitt also appears [POP Magazine]
Italian police have seized works of art belonging to Carlisto Tanzi – founder of the Italian firm Parmalat who collapsed in a massive fraud scandal in 2003. The 19 paintings and drawings, included works by Picasso, Monet and Van Gogh, and is estimated to be worth more than 100million euros [BBC News]

Antony Gormley's Event Horizon that will appear in New York's Madison Square Park in March 2010 via ArtInfo
Antony Gormley has announced plans to install 31 nude sculptures cast from his own body in and around Madison Square Park in Manhattan's Flatiron District beginning March 26 [NY Times]
to stay apprised of the latest relevant news of the art world read more…..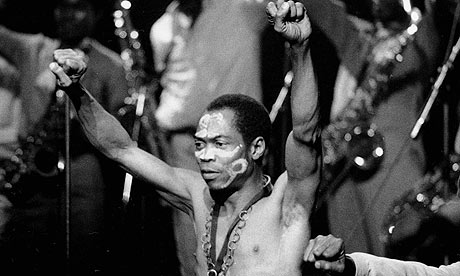 Fela Kuti performing in 1980 via The Guardian
The Turner Prize-winning artist-turned-director Steve McQueen has signed up to direct a biopic of Fela Kuti, the musician who created Afrobeat, almost ran for the presidency of Nigeria, and at one point had 27 wives [The Guardian]
In a survey of 20 major institutions across the USA, The Art Newspaper have discovered that two-thirds have experienced a clear increase in visitor numbers over the past three years. Meanwhile, the a new report released by the National Endowment for the Arts said that the number of American adults attending arts and cultural events has sunk to its lowest level since 1982 [LA Times]
In further museum news – New York's Museum of Modern Art (MoMA) are to share the English version of Bruce Nauman's video work, 'Days,' with museum trustee Maja Oeri [NY Times] Meanwhile, it has been reported that MoMA have frozen pay and reduced benefits for staff after its investments fell 17.6 percent in the last fiscal year [Bloomberg]

James Rosenquist stands in front of one of his signs with his mother in Minnesota, 1954 via NY Times
Half a century since Pop Art emerged, Deborah Soloman looks at how writers have tackled the movement's main figures by way of James Rosenquist's autoboiography, 'Painting Below Zero: Notes on a Life in Art.' [NY Times]
Tom Hoving, director of the Metropolitan Museum of Art in New York from 1967 to 1977, died on December 10 aged 78 [The New Yorker]

Super Mario Clouds by Cory Arcangel via YouTube
Cory Arcangel, the New York-based artist who made his name manipulating creations of the computer age, is currently curating an exhibition at London's Lisson Gallery; in this interview gaming experts quiz the Arcangel on his career and the attraction of games as an artistic medium [The Guardian]
Vadim Zakharov wins Russia's most prestigious Contemporary Art award, the nearly $60,000 Kandinsky Prize, for his installation 'Saint Sebastian Furniture Suite Near Boiling Porridge' [Bloomberg]
In related news, this week Ukrainian billionaire Victor Pinchuk discussed details of his new international art prize – 'The Future Generation Art Prize' will award $100,000, to an artist 35 or younger along with a mentorship program with artists such as Damien Hirst, Jeff Koons or Andreas Gursky. The jury will consist of Eli Broad, Elton John, Miuccia Prada, MoMA director Glenn Lowry and Richard Armstrong, director of the Solomon R. Guggenheim Foundation and Museum. [Bloomberg] Later in the week, Pinchuk speaks to the Financial Times over a Ukranian feast about his enthusiasm for his country's nation-building project.
Meanwhile, the Ukraine's Museum of Western and Eastern Art is under scrutiny after an examination by technical experts from Russia's State Hermitage Museum, the director of Ukraine's Museum of Western and Eastern Art has claimed that a previously unidentified portrait in the Museum's collection was actually painted by Titian [BBC News]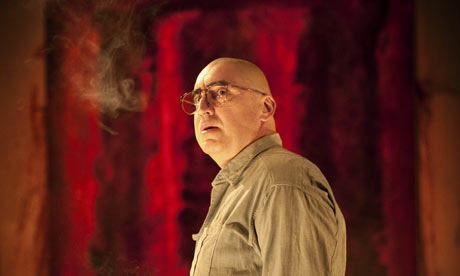 Alfred Molina as Mark Rothko in Red at the Donmar Warehouse, London via The Guardian
Red, a new play by John Logan that chronicles Mark Rothko's struggle to accept his fame opened on December 3 and will run through February 6 at London's Donmar Warehouse. William Boyd has taken the opportunity to profile Mark Rothko's career – from his beginnings as a mediocre figurative painter, to his discovery of a magic formula in abstraction and questions his ultimate happiness [The Guardian] Meanwhile, the Yale Repertory Theater's latest production, "Pop!"  offers a more cheery look into the life of a great American Modern Artist – Andy Warhol [NY Times]

Frank Gehry's Guggenheim Museum in Bilbao via Guggenheim.org
In the 'noughties' – the age of bling and excess – many believed the "Bilbao Effect" was the answer to crumbling cities everywhere. Jonathan Glancey considers architecture at the beginning of an austere new decade [The Guardian] This week Art critic Jerry Saltz has also been looking back at the past decade in art and explains how, in the 00s, the low went very high— a movement best personified by Jeff Koons's 43 ft Puppy [NY Magazine]
While the majority of the Art World were in Miami for Art Basel Miami Beach, The New York Times examined the best of Manhattan's galleries in their Special Gallery Issue. The "hoity-toity" Uptown galleries, the edgy Lower East Side, the blue-chip galleries of Chelsea and SOHO – an area still keeping its cool – were all extensively profiled in the issue [NYTimes] New York's prominent Galleries may have dominated the first Sunday Times of the month, an emerging trend of budding gallerists setting up shop at home was examined later in the week [NY Times]

Jeff Koons's watch Ikepod via Acquire Magazine
Marc Newsom's watch company, Ikepod, have collaborated with Jeff Koons for their first artist-designed watch – "Cannonballs" will go on sale for $15,675 in titanium [Acquire Magazine]
The Italian airline, Alitalia raised $1.8million in a 200 lot sale of modern Italian art to fund part of a breakup and bankruptcy plan ordered by the Italian government [Bloomberg]
The auction of Old Masters and 19th Century Art at Christie's on Tuesday, December 8, realized £68,380,250 – the highest total ever realized for an Old Masters auction [Art Info] – £58.6million of the sale was accounted for by just three pictures – Raphael's Head of a Muse, Rembrandt's Portrait of a Man with Arms Akimbo and Domenichino's Saint John the Evangelist [Financial Times] More records were achieved the following day at Sotheby's when their sale of Old Master and British Paintings, that brought in $30,954,450, saw a new auction record set for Anthony van Dyck when his last self portrait $13,521,704 [Reuters]
The Wall Street Journal's Kelly Crow discusses the art market's recent high sales for Old Masters paintings, and why some investors view Renaissance paintings as bond-like investments over the more-volatile contemporary art prices [Wall Street Journal – News Hub]
In other Old Master news – a new exhibition at the J. Paul Getty Museum in Los Angeles teaches visitors the tricks experts and art scholars use to identify a work by exhibiting a number of fake Rembrandts alongside authentic works [Wall Street Journal]

Rita Ackermann and Aurel Schmidt on their bikes for the Swiss Institute Calender, 2010 via The Fader
The Swiss Institute has photographed artists such as Aurel Schmidt, Rita Ackermann and Cindy Sherman on their bikes in New York for their annual, limited-edition calender [swissinstitute.net]
In light of his second solo exhibition at Johann König, Berlin and his Cartier-award winning performance, "Your Napoleon," at Frieze Art Fair in London, The Moment catch-up with artist Jordan Wolfson [NY Times]

Kim Gordon and Thurston Moore via Purple Diary
Kim Gordon and Thurston Moore of Sonic Youth performed at Sculpture Center's Winter Gala that was held in New York on December 12 in honor of Dan Graham [Purple Diary]
On December 9, Russia's State Hermitage Museum, bought 92 watercolor portraits valued at approximately $4.8million  from the Paris-based Popoff Collection after the works failed to sell at auction earlier this year [Bloomberg]
Art Market Monitor have noted that in avoidance of hunting down one of the art world's most elusive figures, Charles Saatchi, Forbes magazine borrowed quotes from the collector's newly published book – and it worked out quite well [Forbes Magazine] via [Art Market Monitor]

Curators Francesco Bonami and Gary Carrion-Murayari announce the artist list for the Whitney Biennial, 2010 – video by Pierce Jackson via Whitney.org
While it seems 52% of the artists selected to participate in the 2010 Whitney Biennial are women – the highest ever, [NY Magazine] the show will be smaller than it has been in recent years, with just 55 artists, down from 81 in 2008 and 100 in 2006. [NY Times]
Meanwhile, as part of Something Big Something Small, a series of short videos created during Art Basel, the New York Times catch-up with the downtown artist Agathe Snow [NYTimes]

Shift, Richard Serra (1972) via The Globe and Mail
Local government officials in Ontario have voted in favor of granting heritage status to an early outdoor sculpture by Richard Serra – Shift, 1972 that was created in an isolated cornfield belonging to a wealthy art collector and is now owned by a large development [The Globe and Mail – Toronto]
This month, in response to a suggestion from the Culture and Learning Consortium that organizations should work more closely together in order to appreciate the realities of their two sectors, three of the UK's top arts bosses – Tate Director Nichola Serota, artistic director of the Royal Shakespeare Company, Michael Boyd and Tony Hall, director of the Royal Opera House – swapped places with headteachers for a day [The Guardian]

Arriving at the monument for the Georgian-Russian friendship built in Gudauri, Georgia the early 1980s via ArtForum
While the art world boarded planes to Miami for Art Basel Miami Beach, Art Forum's Caroline Busta headed to to Tbilisi, Georgia for the sixth annual Tbilisi exhibition – 'TBILISI 6: Never on Sunday" [ArtForum]
Starting May 2010 the former International Business Machines Corp. building in New York, now known as 590 Madison Avenue, will host a hanging sculpture by the British artist Conrad Shawcross whose debut show in 2003 was bought, almost entirely, by Charles Saatchi [Bloomberg]

BNE finishing a mural in Manhattan via NY Times
Postcard sized stickers  featuring the letters B.N.E. are to be found stamped to signs, mailboxes and walls worldwide – this week an exhibition of the internationally wanted graffiti artist's work opened in a temporarily vacant building at 595 11th Avenue, New York and in celebration of his first exhibition – the artist took his first ever interview with a journalist [NY Times]

Art Review: The 60th Anniversary Issue. On the cover- Portrait of the Artist, Juergen Teller via ArtReview
Art review are currently celebrating their 60th anniversary with a special issure that looks back at the history of the magazine; from the original black-and-white newspaper to today's glossy edition, focusing on key movements, artists and critics (among them Lawrence Alloway, Reyner Banham and Peter Fuller) from each decade and including reproductions of some of the best articles [ArtReview]
275,000 visited the Anish Kapoor exhibit at the Royal Academy of Art, making it the most successful exhibition of a living artist in London [Guardian]

The winning work on School of Saatchi by Eugenie Scrase via BBC
Artist Eugenie Scrase has won the BBC's School of Saatchi with her art work featuring a large tree trunk impaled on a length of fence. The 20-year-old beat five finalists to win a place in Saatchi's current show at The Hermitage in St. Petersburg and studio space for three years. [BBC News]
On August 3, 2009 the Rhode Island School of Design (RISD) announced that the director of its 106-year-old museum had resigned. In the past weeks it has become known that director, Hope Alswang, was in fact forced out after a feud with RISD President, John Maeda. [The Boston Globe] via [ArtsJournal]


Caravaggio's Nativity with Saints Francis and Lawrence via Telegraph.co.uk
Art lovers have long hoped a lost painting by Caravaggio, Nativity with Saints Francis and Lawrence, that was stolen from the oratory of San Lorenzo in Palermo in 1969, might still be found. This week a former mafia hitman turned penito (informer) announced it was burnt and destroyed by the Mafia in the 1980s. [Telegraph.co.uk]
Thirteen etchings by Pablo Picasso have come to light after a Spanish professor discovered them jammed into the pages of a book, once owned by Picasso's lover and muse, Dora Maar, at Spain's National Library [The Guardian]
While the sales of contemporary art for the two top auction houses, Sotheby's and Christie's grew by eight times between 2003 and 2007, they dropped by 75% in 2009.  [Bloomberg]

James Franco interviews performance artist Marina Abramovic via WSJ
After James Franco's musings in The Wall Street Journal about the history of performance art and his 20-episode stunt in the soap opera "General Hospital" as an art piece – he met with artist Marina Abramovic – whom he hails as "the grandmother of performance art" – to discuss her work.
Art and Auction has released their annual power issue that includes 'The Power List' – their survey of the art world people who matter the most [ArtInfo]
TIME magazine charted the top 10 exhibitions of  the year [TIME]